Simple. Effective. Affordable.
That's course materials adoption, management, and delivery with Ambassador.
There is a reason why so many institutions partner with Ambassador to power their course materials programs. We bring everything together in a simple, streamlined and measurable way. This saves time and money for schools and students while delivering a stellar experience for everyone involved.
Our Course Materials Platform integrates with leading Student Information Systems (SIS), Learning Management Systems (LMS), Financial Systems, eBook Readers, and Publisher Platforms, simplifying the adoption, management and delivery of all course materials. Our team knows what it takes. We do our own inventory management and fulfillment; our experienced, in-house technology experts ensure a seamless operation; and our responsive, knowledgeable client services group is there to support everyone, every step of the way.
We have nearly five decades of experience leading course materials programs that ease processes, drive down costs, improve retention and outcomes, and help students succeed. We also have been on the forefront of time- and money-saving automatic fulfillment programs, powering successful, compliant Inclusive Access initiatives for nearly two decades. Over this time, we have grown our business and expanded our product lines, but most importantly, we have deepened our client partnerships and expanded our student support systems. We understand what schools and students need today, and we continually evolve to stay ahead of their needs tomorrow. We pride ourselves on being the very definition of a partner, a collaborator and an innovator.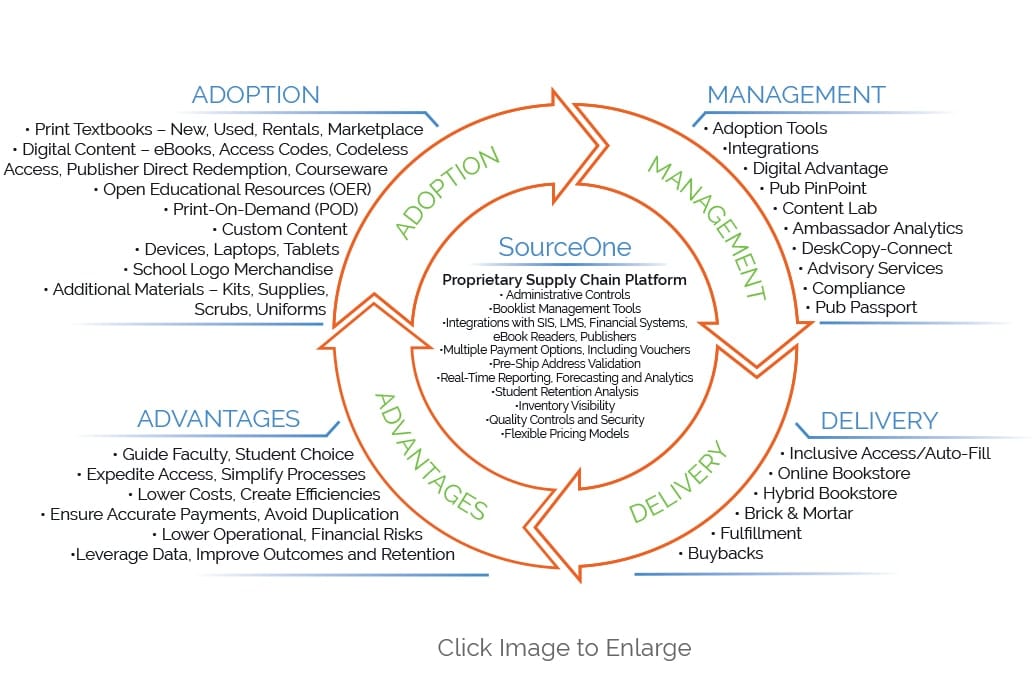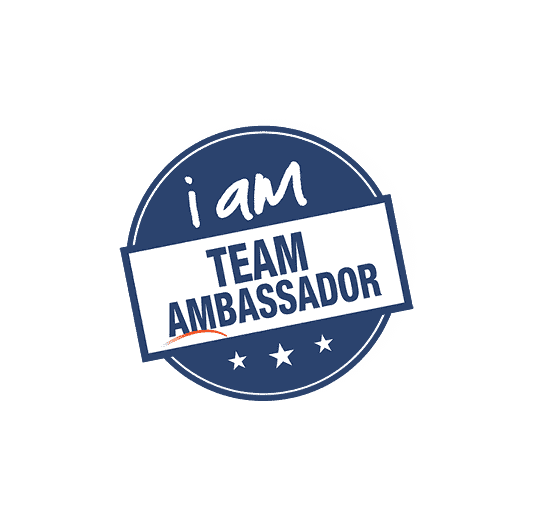 I AM Team Ambassador
With Ambassador, we are all on the same team. We understand and support every stakeholder's role in the course materials lifecycle:
Students: We offer flexible delivery options and dedicated support. Together we improve affordability and the learning experience.
Faculty: We help instructors find, evaluate and adopt the most relevant materials. Together we improve student engagement and learning outcomes.
Administrators: We empower school leaders to stay in control and in compliance. Together we improve accessibility and retention.
IT: We make it easy to leverage our technology and integrations with the school's systems. Together we improve efficiencies and transparency.
Publishers: We provide visibility into transactions and ensure accountability and correct payments. Together we improve availability and accuracy.
Why Ambassador?

Flexible
Course Materials Your Way

Insightful
Accessible, Actionable Data

Student-Centric
Easy, Empowering

Smart
Seamless Customizations, Integrations

Innovative
Always Ahead, Forward Looking
Dynamic Organizations Choose Ambassador

Salisbury School
We used another course materials platform in the past and we even tried bringing the operation in house, but nothing really worked the way we wanted it to until we brought in Ambassador… The Ambassador team was incredibly thorough in getting us up and running quickly, and they continue to be flexible and responsive, accommodating last minute changes, unique requests and/or trouble-shooting without hesitation.
Salisbury School
Sullivan University
Ambassador's responsiveness and flexibility have been exceptional as the System's three school brands have evolved over our decade long partnership. When the System's three independent schools merged into the singular, regionally accredited Sullivan University, the Ambassador team went to great lengths to make sure all students of the larger, more dynamic University had uninterrupted access to their course materials.
Sullivan University
Post University
We put students at the center of everything we do, and we select vendors who share our student-first philosophy. Ambassador fits this mold, and then some. Ambassador's eBooks service is not only easy for students to use, but it gives them flexibility and choice in how they like to access their course materials.
Post University
Global Education Provider
When we transitioned to Ambassador, your team had big shoes to fill, replacing a course materials provider that had a long-standing record of accomplishment in the traditional school space. You did this all so effortlessly. Under Ambassador's guidance, we have not only seen measurable improvements, we have built a bookstore and course materials operation that works, relying on your superb technology and committed support team.
Global Education Provider
Centura College
Our account representatives at Ambassador are really an extension of our own team. They have an intimate understanding of our operations and our goals and they believe in open and regular communication. Ambassador is a stellar example of what it means to be a partner and not just another vendor.
Centura College
Cengage
Our partnership with Ambassador strengthens our shared goal to support the changing dynamics of the market and the needs of today's learners, who need more affordable learning options.
Cengage
McGraw Hill Education
When I reflect on our partnership with Ambassador, what stands out the most is our mutual commitment to innovation and our shared motivation to deliver effective, affordable and accessible learning materials. Ambassador is an integral part of the course materials ecosystem and its impressive technology and solutions are helping schools integrate the right kinds of resources in the learning experience and empowering students to succeed in their academic pursuits.
McGraw Hill Education
Campus Management
Improving operational processes for colleges and universities is a key priority for us, and the seamless transfer of information between our system and Ambassador's does just that. We share a vision for helping schools not only do things more efficiently, but more effectively too.
Campus Management
VitalSource
Ambassador's technologies, processes and quality controls for managing both print and digital content programs are impressive. Its team works tirelessly to help schools of all sizes customize content programs that make the most sense for their students, whether it is evolving to 100% digital delivery, or creating programs where students and schools choose their content method.
VitalSource
Imagine America Foundation
Ambassador has made a tremendous investment, both financially and operationally, to help shape and secure students' academic and professional futures. Not only have its contributions to our scholarship fund created incredible opportunities for students to learn and achieve, but its technology and innovative mindset are moving the education industry forward in measurable ways.
Imagine America Foundation