Ambassador Education Solutions announced that its revolutionary Course Materials Platform, RODA, won a Campus Technology 2020 New Product Award. The awards honor outstanding product development achievements that are noteworthy in the transformation of education technology. Winners were honored in 19 product categories where RODA took home the award for the top Content Management System.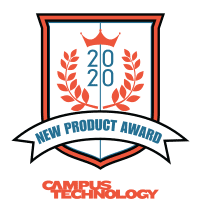 "When we first laid the groundwork for RODA to handle the fragmented approach to content and simplify course materials for students, schools and publishers, little did we know how the education landscape would change so rapidly," said Steven M. Blicht, CEO of Ambassador Education Solutions. "Today we find ourselves in an increasingly fluid world where RODA is even more relevant, providing flexibility, accessibility and transparency unlike any other Course Materials Platform."
Blicht continued, "This award means a lot coming from such a distinguished source of higher education thought leadership among academic and IT leaders. We are grateful to receive this award from Campus Technology and to see our achievements being recognized on a national ed tech stage."
RODA aggregates print and digital content and applications for students and layers it with integrations, single point access, support services, analytics, financial controls and compliance for schools and publishers to bring it all together — all through one flexible and easy-to-use platform. With students juggling online and in-person learning options, RODA makes sure they have access to the course materials they need, when they need them.
RODA, which launched in June 2020, is transforming the way students, schools and publishers work together. For students, RODA simplifies access to affordable course materials so they don't have to navigate multiple platforms or shop through risky marketplaces. For schools, RODA streamlines course materials operations, integrations and publisher relationships, taking a tremendous burden off of schools' internal IT teams and making sure schools don't overpay for content. For publishers, RODA eases account management, integrations and reconciliations, letting publishers know what content is being used so they are accurately compensated.
"Congratulations to all of our winners — these products are making a difference for students, faculty and staff alike during an extraordinary time in ed tech. We're pleased to recognize their contributions to the world of higher education with our inaugural New Product Awards," said Rhea Kelly, executive editor of Campus Technology.
About Ambassador Education Solutions
For decades, Ambassador has made course materials simple, effective and affordable. From print and digital to OER, devices and more, Ambassador eases course materials adoption, management, delivery and access. Ambassador's Course Materials Platform, RODA, integrates with leading SIS, LMS, financial systems, eBook readers, publishers and digital content platforms. RODA connects students with affordable course materials, streamlines operations for schools and eases account management and reconciliation for publishers, all through one easy-to-use platform. Schools and publishers trust Ambassador to improve course materials accessibility, lower operational and financial risks, and deliver usage and cost transparency. For more information, please visit AmbassadorEd.com.
#     #     #
Media Contact: Kristi Emerson ·   800.431.8913  ·   kemerson@ambassadored.com