LET'S FACE IT,
EDUCATION IS BEING REIMAGINED.
IT'S TIME TO GET OUT IN FRONT.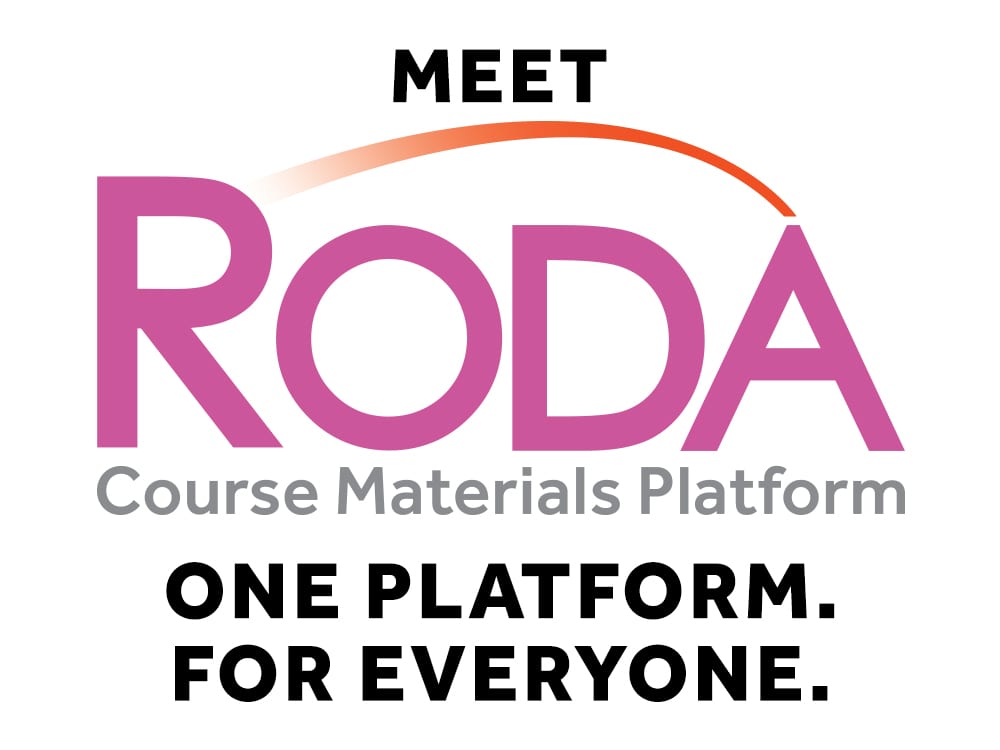 Ambassador's revolutionary Course Materials Platform, RODA, is everything students need to access course materials and everything schools and publishers need to manage the moving parts. RODA aggregates all content and applications for students, and layers it with integrations, single point access, support services, analytics, financial controls and compliance for schools and publishers to bring it all together – all through one flexible and easy-to-use platform, and all at no additional fee.
COURSE MATERIALS HAVE NEVER BEEN EASIER.
RODA fills the data and service gaps between schools and publishers, easing course materials adoption, management, delivery and access for everyone.
For Students, No More Navigating Multiple Platforms
RODA simplifies access to affordable course materials through one centralized Course Materials Platform so that students can focus less on logistics and more on learning.
Download Student Overview >>
For Schools, No More Weighing Down IT
RODA streamlines course materials operations and publisher relationships. RODA manages integrations, provides detailed usage and cost transparency, configures access to content based on duration, facilitates opt-outs and compliance for Inclusive Access programs, and handles all publisher-related issues.
Download School Overview >>
Download Independent Bookstore Overview >>
Download Inclusive Access and Equitable Access Overview >>
For Publishers, No More Guesswork
RODA eases the account management, integration and reconciliation processes. RODA allows publishers to lock down content for students who opt-out and provides verifiable data for all transactions so publishers are accurately compensated.
Download Publisher Overview >>
LET'S MOVE FORWARD TOGETHER.
RODA is built upon the same technology that students, schools and publishers have come to know and expect from Ambassador, as well as added controls, functionality and analytics to address changing market dynamics. Plus, RODA is backed by Ambassador's responsive, reliable Client Services and IT support teams.
Read Our Press Announcement >>
Combating the fragmented approach to content that students, schools and publishers have faced, RODA improves accessibility, affordability and transparency. RODA is more important than ever as schools embrace new learning models, especially in this increasingly digital world.
| | |
| --- | --- |
| | Our Course Materials Platform, RODA, won the Campus Technology 2020 New Product Award in the Content Management System category. Coming from such a distinguished source of higher education thought leadership among academic and IT leaders, Team Ambassador is grateful to see its achievements being recognized by Campus Technology on a national ed tech stage. |